FA Trophy: Wrexham at Wembley at last for Tom Hughes, 96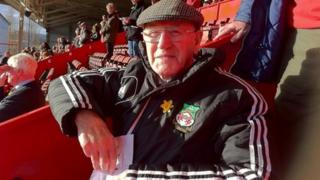 Lifelong Wrexham FC fan Tom Hughes has waited longer than most to see his beloved team reach Wembley.
He is 96, first saw his team play when he was five, and Sunday marks the north Wales side's first visit to the home of English football.
"Going to Wembley is a one-off," said Mr Hughes, a great-grandfather and retired paramedic from Hightown.
He is one of 17,000 Wrexham fans who have bought tickets for the FA Trophy Final against Grimsby.
"I'm not saying they will never go again but would I be there to go with them?
"It does stand out so we are looking forward to it."
It was 1921 when he first saw Wrexham, on the day he joined his father, who was selling pies and cups of tea at the ground.
As a boy he used to sell cigarettes at the Racecourse during games. And as a man he was at many home matches, spending over 40 years as a member of St John Ambulance.
Now he continues to watch from the stands with three other generations of his family, some of whom will be with him on Sunday.
However, his Wembley trip was nearly over before it began, as his son Mike, from Gresford, who is accompanying him on the journey south, is currently on a family holiday to Lanzarote.
Mike is cutting short his trip by a day to watch the game. He is arriving home at about midnight on Saturday before their trip to Wembley begins eight hours later.
"We decided that we would see if we could get a flight back early because we could not see him not going to Wembley," he said before he left for the holiday.
"We obviously wanted to go too."
The club have filled more than 80 coaches with thousands of other fans leaving for London on Sunday, and Arriva Trains Wales has sold out a 300-seat special return train service running direct between Wrexham and Wembley Stadium.
Wrexham council leader Neil Rogers wished the squad well, and said the area was "enjoying a lift" due to their form.
Mr Rogers said: "Andy Morrell and his players are enjoying a good season and a day out at Wembley is just reward for everyone who has fought so hard for Wrexham FC.
"I think the majority of Wrexham will be heading down to Wembley this weekend and the team's success has definitely contributed to the feel good factor around the town.
"The town enjoys a huge lift when the football club are doing well and everyone at Wrexham council would like to wish the team good luck on Sunday."
Player/manager Andy Morrell said it was a well-deserved day out for fans.
He paid tribute to their backing since Wrexham Supporters' Trust (WST) took the club over in December 2011.
"It has caught the imagination of the town," he said. "It's a great day out but it is a football match we have to win."
Club chief executive Don Bircham said their £250,000 share from tickets alone should see the club go into the black as he estimated they would finish the season with a £200,000 operating loss.
Sales from club shop merchandise are said to be over £40,000 as a temporary club shop was opened at Eagles Meadow shopping centre to cash in on the team's run of form.
The Blue Square Premier team are also hoping for a double as they could finish the season with a return to Football League regardless of whether they beat Grimsby.
Mr Bircham reckons that would worth £700,000 a season in part due to an anticipated rise in crowds.
The team were at the club shop in Wrexham on Thursday to pose for photos and sign shirts for fans, before heading south for training, a stay in a good hotel, and then heading to the stadium in new club suits for the occasion.
"I think it is important they have a cracking day out," Mr Bircham told BBC Radio Wales.
"I did have a budget for 25 suits but, in the end, it was nearly 35 suits and we are coming straight back up to Wrexham for a bit of a do on Sunday night.
"It will make it 10 times better if we are bringing the trophy back."
The FA said on Thursday that Wrexham fans had bought just over 17,000 tickets while Grimsby Town fans had purchased 15,680 tickets.
The gates open at 13:00 GMT with kick-off at 15:00 GMT.