Wrexham young offenders miss out on First Light film award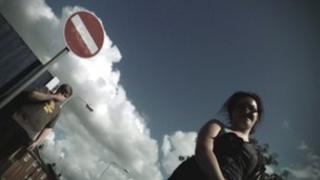 Three young offenders from Wrexham have missed out on an award for a short film inspired by their experiences of the youth justice system.
A Fork in the Road was shortlisted by First Light, which helps young people develop skills through filmmaking.
It tells the story of two friends and the choices they face after getting involved in a violent incident.
The filmmakers, who have been through the Wrexham Youth Justice Service, narrowly missed out on Tuesday.
Judges included actors Martin Freeman, Matt Smith and Ralf Little, and the winners were announced at a ceremony at London's Odeon Leicester Square on Tuesday evening.
The Wrexham film-makers, aged 16 and 17, drew upon their own experiences and were helped in making the short movie by professional film-maker Dion Thorpe.
Their category was won by a group from Fosse Way School in Somerset.