Jubilee Tower refurbishment starts on Moel Famau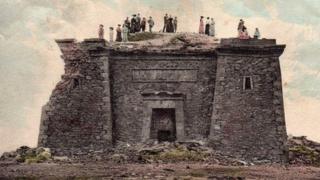 Work is under way to restore one of north east Wales' most prominent landmarks, the Jubilee Tower.
Built on top of Denbighshire's Moel Famau in 1810, the 120ft-high (37m) Egyptian-style tower commemorated the Golden Jubilee of King George III.
The listed tower collapsed in a storm in the 1860s, and only the base remains, which has deteriorated.
Work has started to restore the base, and it is hoped a buried corner section will be revealed.
The tower attracts about 200,000 visitors annually.
However, parts of the structure are beginning to deteriorate and access has become difficult.
Repairs were carried out in 1969, but since then little has been done.
In 2009, Flintshire and Denbighshire councils, with support from the Clwydian Range and Dee Valley Area of Outstanding Natural Beauty (AONB), commissioned a report on the building.
The work will use the last of a £2m Heritage Lottery Fund grant awarded to the Clwydian Range's Heather and Hillforts Project which started in 2004.
The base of the structure, which was designed by Thomas Harrison, became covered after the tower collapsed. It is now hoped one of the corner bastions can be revealed for the first time in more than a century.
Fiona Gale, county archaeologist for Denbighshire, said: "A careful study of the tower has identified key areas in need of repair and reconsolidation.
"Specialist stone masons will use traditional techniques to carefully repair the stone work.
"We also hope to reveal a corner section of the tower that has lain buried for over 100 years which will give a much better sense of it original scale."
Scaffolding will be erected around the tower to allow the estimated 12 weeks of work to take place.
Guided visits to the site are planned for people interested in the work.
David Shiel, senior countryside officer for the Clwydian Range and Dee Valley AONB, said: "This is the first time in over 40 years that any significant work has taken place at the tower.
"At over 1800ft (550 metres) - the highest point in the Clwydian Range - working at the top of Moel Famau will be challenging - particularly at this time of year.
"We hope that the original stone can be salvaged from the buried rubble of the original tower to make things a little easier."
Contractors can drive to Moel Famau's peak in 4x4 vehicles.
Flintshire councillor Carolyn Thomas, chair of the Clwydian Range and Dee Valley AONB, said: "The Jubilee Tower is such an iconic landmark for the Clwydian Range and many of the communities of both Flintshire and Denbighshire.
"But we have perhaps taken it for granted over the years.
"Despite it receiving over 200,000 visitors every year very little has been invested over the last 40 years in safeguarding the fabric of the building."