Body in boot trial: John Yates guilty of murder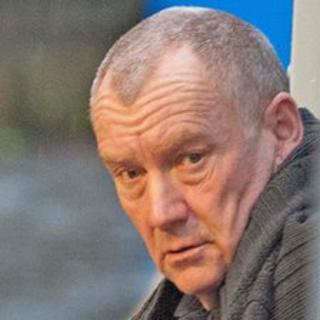 A man who drove his dead wife to a north Wales police station has been found guilty of murder.
John Yates, 58, is accused of beating his estranged wife Barbara, 49, in their home town of Warrington in July.
The defendant, who gave himself up to police in St Asaph, Denbighshire, denied murder but admitted manslaughter.
Mr Yates said he killed his wife after she said she would turn to prostitution and tell their two adult children.
Under cross-examination at Caernarfon Crown Court on Monday, he broke down as he told the jury that he had lost control during an argument.
Mr Yates said he had "lost his head" and punched, butted, strangled and stamped on his wife.
The court heard that on the day Mrs Yates died, he was on bail, accused of stealing 35 pairs of shoes from her home.
The couple had met at Mrs Yates's home on the morning of 18 July, where Mr Yates had agreed to drive his wife into Warrington town centre.
But the two began arguing in his car, ending in a fatal attack while the vehicle was parked by a farmer's field.
"My head had gone, my head fell off," Mr Yates told the jury.
He said he could not remember the sequence of events, but knew he had butted her and strangled her outside the car.
"She fell to the floor. I punched her and stamped on her," he said.
The attacks shattered her nose and cheek bones, and her skull was fractured.
Mr Yates then placed the body in the boot of his Peugeot 306 estate car, covered it with a tarpaulin, and drove to St Asaph before handing himself in to police at the North Wales force's traffic base.
He told them: "I've killed my wife. I've just had enough. I've got mental health issues. She is in the back of the car."
The defendant denied trying to escape a murder charge by falsely claiming his wife told him she would sell herself to men for sex.
"What she said in the end - that actually kicked it off," he told the prosecutor, Wyn Lloyd Jones.
"That's what made me lose control."
Asked if the claims about his wife were "a lie that you made up to get away with murder", Mr Yates replied: "That's not true."
During the week-long trial, the jury heard that Mrs Yates had been subjected to nearly 30 years of physical abuse by her husband, leading to her leaving their family home at Padgate in Warrington in 2009.
The prosecution claimed that Mr Yates became jealous of his wife's new life - a claim denied by the defendant.
In 2011, Mrs Yates had to be treated in hospital for an attack claimed to have been carried out by her husband, in which she was punched and hit with a hammer.
However, Mrs Yates later withdrew a complaint against her husband.
Summing up the prosecution's case, the judge, Merfyn Hughes QC, said it was "a decision that may have cost her her life".
"The crown's case is that by early 2012, Mr Yates was a bitter and vengeful man.
"That if he wasn't going to have her, no-one would."