North Wales digital map helps police with rural crime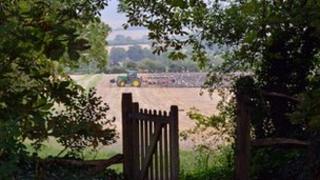 Extra local information such as land ownership and livestock details has been gathered for a digital map to help North Wales Police tackle rural crime.
The information is accessed via tablet computers and assists officers as they get to grips with the situation.
It is hoped other communities will be inspired do do something similar to help police target crime to an area.
It developed as a result of a meeting between police and residents in Esclusham and Ponciau, near Wrexham.
The idea came after local people attended the monthly police meeting in Aberoer with their Police Community Support Officer (PSCO), Sofia Iftikar.
"The aim is that a police officer or PCSO attending a rural crime will have this tablet to hand making it quicker to orientate themselves to the outlying rural areas and giving them immediate access to data," said Mary Huxley, who is part of the development and Rural Watch Scheme member.
Another scheme member, Paula Williams, added: "If there is theft or farm machinery, sheep worrying or a breach in a livestock boundary, it will help the attending police team to have immediate access to know who the field belongs to.
"It's important that as farmers and land owners we can react quickly to contain livestock, ascertain illegal hunting or spread word quickly of a machinery theft through the OWL Watch Alert system [a scheme where members can contact police with information or be warned if thieves are about].
'Can do' attitude
"This digital map will help the community and police teams do this."
PCSO Iftikar said officers were excited about the potential of the scheme, which was put in place by local residents.
"They have a 'can do' attitude which has led to this great development, and it is important that we have as much information as possible, and as quickly as possible."
The scheme is also supported by Clwyd South MP Susan Elan Jones, who said: "I am sure this initiative will inspire other communities, and assist many other rural police forces in the future".