Howell's School former head claims dismissal 'campaign'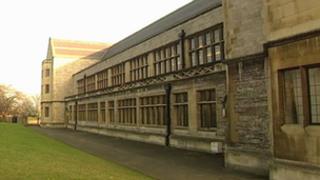 The former head teacher at a private girls' boarding school in Denbigh has told an employment tribunal that there was a campaign to dismiss him.
Bernie Routledge was suspended from Howell's School in 2011, along with his partner Helen Price, who was associate head of pastoral care.
The Wrexham tribunal heard it followed "inappropriate" chat between the head and pupils on social media websites.
But Mr Routledge and his partner claim they were unfairly dismissed.
The former head teacher told the tribunal panel that he had interacted with pupils on social media sites, including Facebook, where a page called "The Bernard Routledge Appreciation Society" had been set-up, though not by him.
"In the 21st Century many people choose to interact using social media sites," he said.
Mr Routledge said guidance on social media sites was that people in his position should be "careful what you do", and there was no instruction not to use them.
But earlier in the week, Howell's School trustee Robert Locke told the tribunal: ""I was horrified to see he was communicating with pupils.
"Parents were contacting us and there were concerns."
'Horrifying'
Mr Locke said he had raised his concerns with a school inspector who told him to refer the matter to the police and social services, after which he was told no crime had been committed and the matter should be dealt with internally.
The trustee also took advice from his brother, Alan Locke, who also gave evidence to the tribunal.
Alan Locke told the hearing that he believed the conversations between Mr Routledge and pupils had been "totally inappropriate".
He said he found one entry in particular "horrifying", which referred to comments made by a pupil who said the head teacher had called her a "druggie", and that the head would have beaten any drug user who reoffended during his time serving as a police officer.
Giving evidence himself on Friday, Mr Routledge denied making any such comments.
He was also quizzed on other postings on social media pages, including a comment from a pupil he taught at a previous school stating: "We saw his shotgun scar, we saw his soul."
'Paedo' jibe
Mr Routledge said it was "true that I've got a scar that I call my shotgun scar".
The court heard he posted a reply saying: "That's hidden in the deepest valley in north Wales."
In evidence, the head teacher said he had been referring to his atheism.
Questioned further on his use of social media and his posts, Mr Routledge said that ill-judged comments were not the same as inappropriate comments.
Friday's proceedings were halted briefly, after he broke down crying.
The head teacher told the tribunal that during an earlier break, the wife of trustee Robert Locke had called him a paedophile.
Mr Routledge said all the evidence being presented against him was being "twisted to the nth degree".
"It's a campaign," he added. "No matter what I said, it would be twisted."
The tribunal continues.