Euticals, Sandycroft: Chemicals apology and reassurance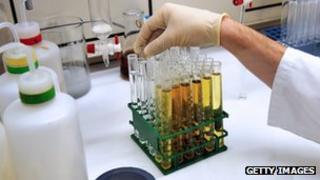 A Flintshire company has apologised "for any inconvenience" to residents and businesses after a potentially explosive chemical was found on site.
Production at pharmaceutical firm Euticals Ltd in Sandycroft was stopped after safety inspectors found a substantial quantity of ISDN.
The chemical is used for drugs to treat angina patients.
In a statement, Euticals outlined steps it was taking to safely "remove materials from the site".
On Friday, Flintshire council sent letters to 3,000 residents and businesses informing them of the discovery.
In a statement, the council's chief executive, Colin Everett, said "a substantial quantity of potentially explosive pharmaceutical material - Isosorbide Dinitrate (ISDN Pure) - has been identified on the site following a recent joint inspection by the Health and Safety Executive (HSE) and Environment Agency Wales".
The company later issued a statement in which it said it was working closely with health and safety agencies and had taken a number of actions which included increasing security and halting production.
It also said it had written to local residents and businesses offering "up to date information".
The statement added: "We do apologise for any inconvenience to our local residents and business neighbours."
The company also said it "is committed to the safe and effective treatment of hazardous materials and to the resumption of safe operations".
The company has been producing ISDN for more than 30 years.