Olympic champ Jade Jones bus parade in Flint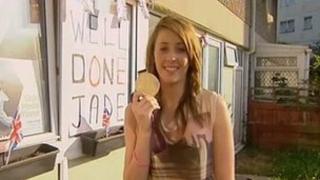 Olympic gold medallist Jade Jones has toured her home town on an open top bus to mark her official homecoming following her success at London 2012.
The 19-year-old from Flint is Team GB's youngest gold medal winner having been crowned champion in taekwondo.
Jones attended a civic reception at Flint town hall and appeared on the balcony at 18:45 BST before boarding the bus 15 minutes later.
The parade ended at the lifeboat station at 19:50 BST.
Speaking before the event, Flint mayor Vicky Perfect said: "We are immensely looking forward to giving Jade the homecoming she richly deserves.
"Flint town council has supported her throughout and is ecstatic to be honouring her with this civic reception.
"We hope Flint people will put their flags out and come down to the town hall to show Jade how much we value her outstanding achievement in the Olympics."
She said that although Flint wasn't very big, "people do want to see her".
"It's like the feel-good factor times 10," she said.
"It's like the best Christmas present you could wish for and getting it.
"Everybody's buzzing from it, from what she's achieved."
The Olympian's father Gary said the reaction in Flint was "brilliant".
"It's amazing that people are still buzzing around the town," he said.
"They're still waiting for this party. Everybody we meet they are saying they can't wait for it.
"It's going to be like Christmas all over again."
Take a break
He added that his daughter was still busy with media appearances but would hopefully take a break and spend time with her family after the parade.
Flintshire county council has helped the town council arrange the event.
Jones returned to Flint last week and found a "crazy" number of people outside her mother's home.
As with all of Team GB's gold medallists, a post box in Flint has been painted gold to mark the success.
The town's leisure centre will be named after Jones in recognition of her win.