Connah's Quay power converter station plans revised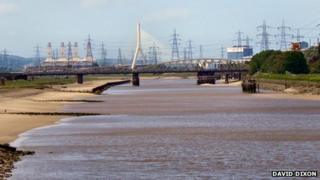 Residents are opposing plans to build an electricity converter station near homes on Deeside.
The National Grid wants to use the site of the old Connah's Quay Power Station to convert power brought to land via an undersea cable.
Residents want the energy company to build away from homes on the other side of the Dee estuary.
It has submitted new proposals after outline plans were refused by Flintshire councillors in February.
However, in a newsletter distributed to homes in Connah's Quay, the company said it was appealing to the Welsh government against that refusal.
Last month it submitted detailed proposals which have yet to be considered by the council planning committee.
National Grid said the converter station was needed as part of its Western Link, a project to build one of the world's longest under sea power cables carrying renewable energy from Scotland to homes and businesses in Wales and England, via Deeside.
Connah's Quay Golftyn Labour councillor Peter Macfarlane said residents were opposed as the revised plans showed the proposed buildings would still dominate the skyline.
'Lobbying'
Although the height of the structures is not revealed in the newsletter, the earlier outline plans said the highest structure would be up to 30m (about 98ft).
The newsletter says the company has listened to concerns which have led to a "significant reduction in the footprint of the main building".
That has not put residents at ease, according to the councillor.
"It's still a huge building," he said.
Meanwhile, householder Geoff Bennett told the Leader newspaper: "We have a strong residents committee and we will be lobbying everybody."
The station is being developed in a joint venture with Scottish Power Transmission, which operates the network of cables and power lines taking electricity to 3.5m homes in the south of Scotland, north Wales, Merseyside, Cheshire and north Shropshire.
According to National Grid, the building will convert direct current (DC) electricity transported by the link to alternating current (AC), so it can flow through the existing electricity network to reach homes and business.
Project director Graham Edwards said improvements in the new application included a reduction in the main building to half its initial planned size, with extra landscaping and noise mitigation.
"We know that there were concerns about potential noise from the new converter station," he said.
"We have addressed these by carrying out comprehensive noise studies and incorporating new features into this design to ensure background noise levels would not increase as a result of the converter station operation."
The plans have been on show at Connah's Quay Town Council for the last month and will be considered by county councillors at a planning committee meeting over the next few months.