New bishop of Wrexham named as Monsignor Peter Brignall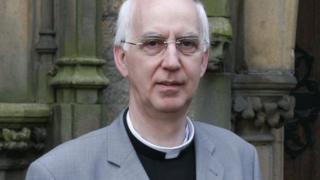 The new bishop of Wrexham has been named by the Pope as Monsignor Peter Brignall, the dean of the town's St Mary's Cathedral.
Mgr Brignall, aged 58, will take over from Bishop Edwin Regan, who announced his retirement last summer from a post he took up in 1994.
He will be ordained on 12 September as bishop of the diocese, which covers north Wales and Powys.
Mgr Brignall said he was "humbled and honoured" to accept the appointment.
He is currently vicar general of the diocese, and holds a number of other roles, including chairman of its board of trustees.
"I am delighted for Bishop Edwin that he is now able to take his well-deserved retirement and after having overcome the initial astonishment of the holy father's expression of confidence in me, am humbled and honoured to accept this appointment and to be able again to commit my life to the service of the Catholic Church in north Wales, a church that now 35 years ago I chose and offered to work in and for on leaving London," said Mgr Brignall.
He said his first plans would be to "build on the foundations laid by the first two bishops of Wrexham, Bishop James Hannigan and Bishop Edwin Regan".
"Just a month after my ordination as bishop the church begins the 'year of faith,' a year in which Pope Benedict XVI invites Catholics to rediscover the gift of faith and so seek new ways of proclaiming it.
"I could do no better than taking that as the starting point of my ministry, indeed as the whole purpose of my ministry in Wales for years to come".
Mgr Brignall was educated in St Alban's, Hertfordshire, and Finchley and Barnet in north London. He entered Westminster's Allen Hall seminary in 1972.
In 1977 he was ordained deacon for the diocese of Menevia in south Wales before moving north when serving in the parish of St David in Mold, Flintshire.
After also working in west and mid Wales he was made area dean of St Mary's Deanery in Wrexham in February 2002 before being appointed vicar general the following year.