Gabor Sarkozi murder trial: Final statements to jury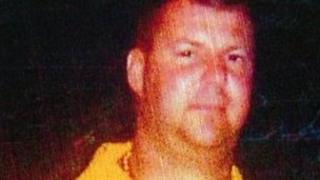 The trial of two men accused of murdering a take-away driver in Denbighshire has heard final statements from the defence and prosecution.
The prosecution told Mold Crown Court that evidence against Gary Bland and nephew James Siree was overwhelming.
The men deny attacking Gabor Sarkozi at Meliden near Prestatyn in October 2011.
Defence teams argued that there were too many unanswered questions in the case, and the victim could have been attacked by others.
Hungarian national, Mr Sarkozi, died in hospital from a series of injuries after being attacked near the village of Meliden and then again close to the Happy Garden chip shop, where he worked as a delivery driver.
The prosecution have claimed that the two defendants were responsible for that fatal attack.
The men, both from Rhyl, have denied any part in the incident, and Mr Siree said they had been trying to help Mr Sarkozi after discovering him collapsed.
Other attackers
Gordon Cole QC, defending 22-year-old Mr Siree from Rhyl, told the jury that evidence of an alleged confession by his client to his former girlfriend was "tainted and dangerous".
It is alleged that he had told his girlfriend that he had murdered a Hungarian man and that he had "stamped someone clean out".
Giving evidence himself, Mr Siree denied the claim.
Addressing the jury, his defence counsel, Mr Cole claimed she had been threatened with prison by the police and had given her statement after it was claimed a police officer had told her the defendant was cheating on her.
Defending Mr Bland, 42, John Benson QC said the victim may have been attacked by two other people and that pieces of the prosecution' s jigsaw case were missing.
Mr Benson also told the jury that his client had exercised his right to silence in police interview because he had not felt confident that his memory was sound enough because of his alcohol consumption at the time.
CCTV evidence
But prosecutor, Elwen Evans QC, said the two men had tried to put up a smokescreen to hide what really happened when Mr Sarkozi was killed.
She said the evidence including CCTV footage, eye-witness accounts who saw him being punched, kicked and stamped, and the alleged confession by Mr Siree to his then girlfriend that he had killed a Hungarian man all led them to the inescapable conclusion that they were guilty of murder.
Jury members have been asked to return to court on Monday morning when Mr Justice Griffith-Williams will sum up the case to them.