Llangollen chain bridge gets Heritage Lottery Fund boost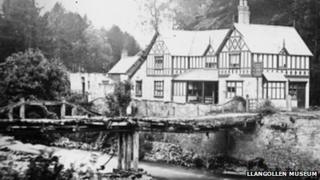 Llangollen's historic chain bridge could be fixed and reopened as early as next year if a £325,000 restoration project gets the go ahead.
The Heritage Lottery Fund (HLF) has awarded the bridge's owners £28,900 to commission a detailed report to repair the bridge.
It closed over 30 years ago due to safety concerns about its condition.
The local town and community councils bought it for a nominal £1 sum to try to ensure its restoration.
The grant will allow the council to commission consultants to prepare drawings and a design specification to enable the restoration work to go out to tender.
The bridge was formerly owned by businesswoman Stephanie Booth when she ran the adjacent Chainbridge Hotel.
Llangollen Town Council and Llantysilio Community Council have been trying to raise funds to carry out the bridge's repairs since 2007.
They produced an initial report for HLF development funding which has now been secured.
It does not guarantee they will secure all the money needed but councillors are hopeful.
The plan is to fix the bridge and create disabled access via nearby Berwyn Station which is served by Llangollen heritage railway along with an exhibition and other community events.
'Potential'
The bridge spans the river Dee which itself runs parallel to the rail line on one side and Llangollen Canal on the other near its source, Horseshoe Falls.
It was built in the early 1800s by an entrepreneur to avoid his business incurring tolls fees on another bridge in Llangollen.
It was replaced in 1876 due to its condition and was rebuilt in 1928 after being damaged in a flood.
Town council clerk Ian Parry said the hope was that tourists would travel along Llangollen Canal via horse-drawn boats and then take a steam engine ride.
The HLF bid includes working with community groups such as local schools and history groups, including Llangollen Museum.
A second round bid will go back to the HLF later this year and, if accepted, work could get under way next year, said Mr Parry.
Wales HLF head Jennifer Stewart said: "The chain bridge has the potential to play a key part in adding to the tourist offering in the area and in doing so provide a boost to the local economy through forging links with local businesses.
"As such we have awarded a development grant for the councils to work up their plans..."