Steam gala runs on Llangollen Railway extended line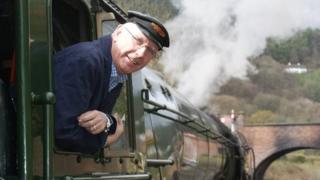 A nine-day steam gala in Denbighshire is aiming to celebrate the reopening of a section of track that has not been used in almost 50 years.
Llangollen Railway is half way through a £4.6m extension of its line from Carrog to Corwen.
Music producer and rail enthusiast Pete Waterman was a fireman on Tornado, a locomotive which made the first stop along the route.
Organisers hope the steam gala will attract up to 10,000 people.
The two-mile (3.2km) Carrog to Corwen extension is being rebuilt by Llangollen Railway volunteers.
The section of line was closed in 1964 as part of the Beeching cuts to the railway network.
Six locomotives have been added to the line up of trains taking part in the Steel, Steam and Stars festival in Llangollen.
Tornado is the first express passenger steam locomotive to be built in Britain for 50 years, and one of the most powerful steam locomotives ever to run in the UK.
Waterman took command of the engine wearing the hat that he wore as teenager when he worked on the railways in the early 1960s.
He said: "It's worn better than me. I love coming here. I have been coming here since I was child, when we used to go to Snowdonia to the youth hostels. I really do love this railway."
Quentin McGuinness, of organisers Betton Grange Society, said: "It's a festival to celebrate steam and also the fact that we've opened up a new section of line to Bonwm Halt.
"Steel, Steam and Stars is also a funding event for a registered charity which is to build a new locomotive in workshops at Llangollen Railway."
Llangollen station master Anne-Marie Northhall said: "People remember their childhood. They remember going to school. They want to share it with their family.
"It's a good all round family entertainment with all generations involved."
Annually, 100,000 passengers travel on Llangollen Railway which forms part of the old Ruabon, near Wrexham, to Barmouth Line.
It is hoped the extended line will be completed by December.