Ysbyty Glan Clwyd: Two jailed for stealing cash machine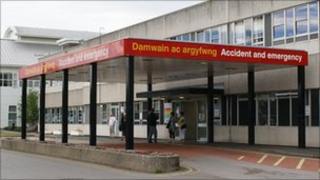 Two men have been jailed after they admitted stealing a cash machine with nearly £49,000 inside from a hospital foyer, using a trolley to wheel it out.
The ATM and the cash were taken from Ysbyty Glan Clwyd in Bodelwyddan, Denbighshire, in December 2010, Caernarfon Crown Court heard.
Philip Lowe, 26, of Huyton, Liverpool, was sentenced to six years and six months and Carl Cavanagh, 29, also of Huyton, was given six years.
Neither the ATM or money were found.
The raid happened just before Christmas 2010 in the early hours of the morning.
The cash machine, worth nearly £5,000, had been refilled the previous day with £20 and £10 notes, the court was told.
Wyn Lloyd Jones, prosecuting, said a number of cars had been used in the raid, and at least four men were involved.
He said a trolley was used to wheel the heavy ATM from the building into a Volvo estate car.
The court heard how the gang "locked themselves in" while they dislodged the ATM. They used bicycle chains to keep doors shut and one gang member had gestured with a crowbar to "dissuade" staff and security men interfering as left the scene.
The court was told that the Volvo estate car carrying the machine disappeared, but another Volvo was chased by police at speeds up to 130mph (210kph) before it was abandoned and one of the occupants arrested.
Recorder Winston Roddick QC said: "It was highly planned and professional - to make a lot of money."
Lowe admitted charges of theft and intending to pervert the course of justice.
Cavanagh received five years for the theft and another year for receiving a stolen Transit van when he was already on bail.
A third man, Ian McNicol, 59, of Humphrey's Hay, Crosby, who denied intending to pervert the course of justice by reporting to police that Lowe's silver Volvo had been stolen, received a nine months suspended sentence.
The judge heard he was in poor health and described McNicol's part as being "led by the nose".