Miriam Beard's £51,000 fraud angers Plas Madoc residents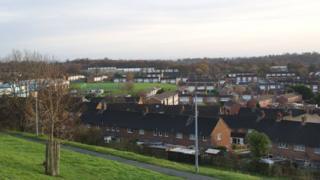 When Miriam Beard "milked" a charity out of more than £50,000, she stole from one of Wales' poorest communities.
As the former co-ordinator of the Plas Madoc Communities First Project, it was her job to ensure the charity's funds helped improve the Wrexham community.
Many residents believe the money could have enhanced life for those on the estate, particularly children.
Beard, 56, of Henllan, Denbighshire, was jailed for 32 months on Friday at Caernarfon Crown Court.
She was appointed the charity's co-ordinator in 2003 after working as a welfare rights money adviser for Wrexham council's social services department.
Even before she began work, she had misled the organisation.
During her trial - before she changed her plea to guilty - Mold Crown Court heard she had concealed her past by claiming to be 10 years younger than she was.
She claimed that she left university and went straight to work after obtaining A levels and GCSEs.
In reality, she had been due to sit six CSE examinations, failed three and failed to turn up for three, and never went to university, the court heard.
She had also been convicted of offences of dishonesty and other matters in the 1970s, and in 1979 went to prison for conspiracy to defraud.
Her most serious crime though, according to many Plas Madoc residents, was stealing money that could have improved the lives of local children.
The charity was intended to provide activities to boost the quality of life for local residents.
According to the Welsh Index of Multiple Deprivation 2011 - which breaks the country down into 1,896 small areas - Plas Madoc is ranked the 24th most deprived in Wales.
Welsh government statistics on Communities First areas (dated 2001), said nearly 83% of people lived in rented council accommodation or housing from a registered social landlord.
Figures suggested more than 10% of households were overcrowded.
More than 45% of households with dependent children did not have an adult in employment and nearly 54% of households had one or more people with a "limiting long-term illness".
More than half of the population aged 16-74 were described as having no qualifications.
Many residents believe money like that stolen by Beard could improve life on the estate.
Tracey Pritchard, who works at Plas Madoc Post Office, said: "A lot of people are very angry. People feel they have been ripped off.
"The estate could do with a lot of revamping.
"There used to be a youth club here, but that's gone. It was somewhere for the children to go at night, at least, but there's nothing here anymore.
"There's a leisure centre, but I don't think half the people here can afford to use it."
Resident Laura Hughes, 32, an unemployed carer for her autistic daughter, said: "My daughter was going to a group called Reflections, but they had to stop it. The children would play and learn there.
"You don't rob £50,000 off places like this. People haven't got any money.
Nick Griffiths, 33, unemployed, said: "Nobody here has any money.
"That money was supposed to help people. Who would do something like that?
"That money would pay for courses for people to educate themselves to find work.
"It would pay for other groups to come in and run different services for kids and adults."
Louise Hampson, a 32-year-old mother of three, said: "It was amazing she got away with it for so long. People are disgusted.
"That money would have paid for so many activities for local children - things for them to do in the school holidays."
Kay Hand, 63, said: "I feel ashamed for the children of the estate, because it's not my generation, it's the younger generation who benefit from things like that.
"They could have bought a load of equipment, something for the children to do."
Helen Storer, 33, unemployed, said: "I'm glad she's pleaded guilty.
"I think that money could have been better spent.
"There's quite a few more poverty-stricken people here than average."