Bosnia bridge renamed to honour soldier Wayne Edwards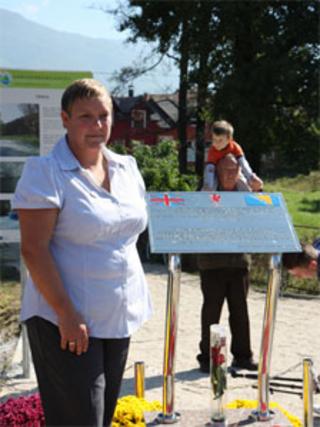 A bridge in Bosnia has been named after a peace-keeping soldier from Wales killed as he tried to cross it 18 years ago.
L/Cpl Wayne Edwards was killed as he escorted an ambulance in Gornji Vakuf-Uskoplje in 1993.
His sister, Kimberley Gough, from Cefn Mawr, Wrexham, attended the renaming ceremony earlier this month.
She said she drew comfort from seeing her brother had not lost his life in vain, with the town back at peace.
"I was really nervous about going out there ang going to the place where he was killed. I didn't know how I would feel.
"But I was overwhelmed by how nice the people were, how lovely the place was, and how much it's come on.
"It's nice to think that they [British and allied forces] were there to do a job, and they must have done it well for the country to progress so much."
Royal Welch Fusilier L/Cpl Edwards was the first of 53 British servicemen and women to be killed in the war from 1992 to 1995.
At the time of his death he was attached to the Cheshire Regiment as part of the United Nations peace-making force.
'Never come to terms with it'
He was escorting an ambulance carrying three injured women to hospital when he was shot through the head by a sniper.
Two of the women were pregnant and later gave birth in hospital.
Ms Gough said: "You never come to terms with it, you just live with it.
"He was such a well-liked lad in the village. People still talk about him.
"Renaming the bridge is a real tribute to him, that will be there forever."
'Physical scars'
The town's mayor and municipal council decided to rename the bridge in tribute to him and the other peace-keepers that lost their lives.
The ceremony was attended by British ambassador Nigel Casey, as well as retired Col Robert Stewart, the lance-corporal's former commander.
Mr Casey said: "This moving event was a reminder of why we need to maintain our commitment to the peace-building challenge that remains in Bosnia and Herzegovina.
"Although the physical scars of war are readily apparent, the level of reconstruction is impressive.
"The citizens enjoy a normality that they value all the more because of the horrors they endured during the conflict."