Corwen Pavilion: Judge due to rule on demolition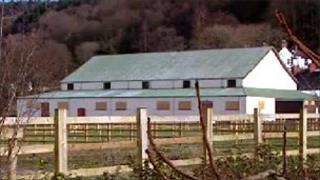 The future of a Denbighshire Pavilion remains undecided, after campaigners hoping to save it were given two months to prepare their case by a judge.
Judge Nicholas Chambers QC had been expected to decide if a temporary court injunction to stop the demolition of Corwen Pavilion should stand.
He said all issues should be examined during a two-day trial in December.
An injunction was won in April to halt demolition by Denbighshire council, which says the building is unsafe.
The Friends of the Pavilion obtained a temporary injunction restraining the council from "demolishing, damaging, deconstructing or otherwise degrading Corwen Pavilion".
Denbighshire council said the building was not financially viable to repair and want to flatten the site and give the land to the community to raise funds to build their own community centre.
But the pavilion group said an independent surveyor had costed repairs at £66,000, rather than the £2m - £3m Denbighshire council said it would cost to rebuild the centre.
The pavilion, which was built in 1911, closed in March 2010 due to health and safety concerns.
Since then, council officers helped form a working group to create a charitable company to have the land transferred to it.
Judge Chambers adjourned the case until 1 December at Caernarfon County Court.
He told the court it was "good to talk" and urged both sides to do so.