Tales of Mold: Espionage plots and two fat hens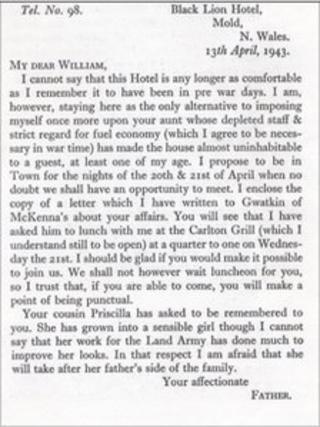 The death of a tramp which helped change the course of World War II, and a pub where the rent included "two fat hens" are the subjects of unusual tours of a Flintshire town.
A series of walks has been staged to help boost tourism in Mold.
Local historian David Rowe is hosting the tours, which include a fascinating insight to Operation Mincemeat, a famous World War II espionage plot.
The next tour, of Victorian Mold, takes place on Thursday 8 September.
The walks, costing £4, follow various other themes, as well as a "heads will roll tour," in which the history of the Mold Cape - dating back 3,000-4,000 years - features.
There is also a pub tour, which includes a detailed look at the town's links with Operation Mincemeat, which saw a dead alcoholic Welsh tramp help change the course of World War II.
The body of Glyndwr Michael, from south Wales, was found in London in 1943, and stored on ice for three months in a mortuary.
His body was later shipped to the coast of southern Spain for an elaborate plot to fool the Nazis.
Intelligence officers transformed the corpse into a fictitious soldier - Major William Martin - and put an identity card, ticket stubs and mementos from a fiancée on his person.
Chained to his wrist was a briefcase containing a letter marked "personal and most secret," identifying Greece for invasion by Allied forces. Greece, however, was a dummy target and the real plan was to invade Sicily.
The dummy major also had apparent links with the Black Lion Pub in Mold.
Tour guide Mr Rowe said: "His body contained a number of letters, including two from his father on Black Lion notepaper.
"It's the sort of letter written by an Edwardian gentleman. He's basically saying how 'it's not like it used to be'."
Mr Rowe added: "The walks are all part of the whole regeneration exercise in Mold, and organised by Flintshire Tourism and Mold Town Council. It's to highlight what Mold can offer.
"Even some local people aren't aware that the town started with a castle.
"People from outside the area can learn more, as well as people who live here."
The pubs tour includes a look at Mold's 70-plus pubs and breweries over the centuries.
It includes a lease agreement for the Red Lion pub, which Mr Rowe says refers to "£10 plus two fat hens in January and two days reaping at harvest" as rent.
Thursday's Victorian walk start at 10:30 BST at the Daniel Owen statue outside Mold Library.
A further walk will be held on 22 September.