Wrexham FC Supporters' Trust call for calm over future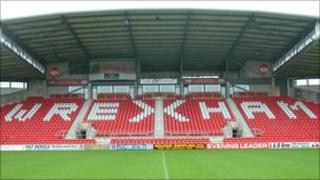 Wrexham Supporters' Trust (WST) has called for calm over cash-strapped Wrexham FC's future.
Around 115 staff at the club, including the players, have not been paid and two pre-season friendlies were called off.
Owners Geoff Moss and Ian Roberts put the club up for sale in May and say they have no more money while Mr Moss said he has received death threats.
WST said it "appreciated" the emotions and passions that have raised in the "rollercoaster week".
In a statement on its website, WST said: "This is a time for responsible and calm behaviour by all parties and all fans.
"The trust board is engaged in serious efforts to help our club survive and needs to be allowed to get on with the job professionally and without distractions.
"The trust board does not support, encourage or condone behaviour that brings into disrepute the wider fan base or those associated with Wrexham or football in the area.
"There is no justification for illegal and harassing activity by anyone and neither the Trust board nor the membership will be associated with such behaviour."
Wrexham Village, the holding company which owns Wrexham FC, also owns the Racecourse ground and the club's training facility.
Discussions
Glyndwr University is discussing plans which could see it buy into the Racecourse with the WST buying the football club.
The Football Conference is seeking urgent assurances that Wrexham will be able to complete its fixtures in the coming season.
Wrexham's 2011/12 Blue Square Bet Premier campaign is due to get underway at the Racecourse against Cambridge on Saturday, 13 August.
The club's pre-season friendlies at Colwyn Bay on Thursday night and at Vauxhall Motors on Saturday have been cancelled.
The supporters' trust said it was confident it could complete a deal to take over the club.
Meanwhile, it has given its backing to the Wrexham Supporters' Federation which is appealing for fans to help pay the players' wages.
"The week ahead is undoubtedly a big one but the possibility of Glyndwr University buying the Racecourse and Colliers Park to enable the owners to clear the debt, pay players' wages and sell the club to the Trust is very much still alive," the WST statement added.
The Board is confident that if that agreement goes through there will be a workable lease arrangement to develop a unique partnership between the university and Wrexham football club, one that is genuinely committed to the community of Wrexham and north Wales.
"The trust will continue to provide timely updates and would ask members to rely on us for authoritative information, rather than gossip or speculation.
"As case in point Mr Moss has invited the Trust chief executive efficer to spend more time at the club working in preparation for a potential handover if the deal can be finalised."