Wrexham mines centre demolition bid withdrawn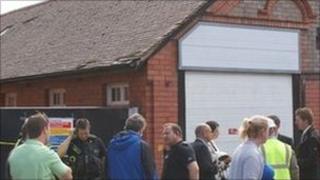 A bid to demolish a former mines rescue centre in Wrexham has been withdrawn.
Businessman Neville Dickens wanted to completely remove the listed building from the site at Maesgwyn Road.
He was fined £2,000 earlier this year after workmen started to demolish the centre without planning permission.
A report had recommended the application be turned down. However, at the start of Monday's meeting, councillors were told the application had been withdrawn earlier in the day.
The report said the owner had failed to provide sufficient evidence to justify the building's removal.
The building, which dates back to 1912, was once used to train miners to rescue colleagues involved in pit accidents.
The centre closed in the 1980s and was handed to the fire service before it passed into the ownership of Mr Dickens, a former chairman of Wrexham Football Club.
Photographic record
Planning permission to clear the site to make way for eight apartments was originally granted in 2004 and renewed in 2007, but the building was listed last year.
At about the same time police were called and demolition work was halted after complaints by campaigners trying to preserve it.
In submissions to the council a consultant hired by Mr Dickens had said the building was "unremarkable" and its history could be marked by a photographic record and plaque.
The local community council and Ancient Monuments Society had objected and the Wrexham Heritage Forum also raised concerns.
Council planning officers say the site could be developed for residential or retail use with the main frame of the building remaining intact.