Howell's School, Denbigh, principal suspended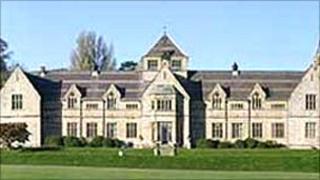 A private girls' school principal and teacher have been suspended while an internal inquiry takes place into the use of social networking sites.
Howell's School in Denbigh confirmed that head Bernie Routledge and head of pastoral care Helen Price will not be in school during the investigation.
Trustees wrote to parents to say they were looking into "reports received regarding management of the school".
They said the issues related "primarily to social networking and conduct".
The school would not be drawn on exact details, but said the investigation was nothing to do with individual Facebook accounts, and was not connected to the school's IT network.
It is understood a page on Facebook, the Bernard Routledge Appreciation page, is at the centre of the investigation.
Mr Routledge joined Howell's as deputy principal from The King's School in Chester, and has been principal since September last year.
The school has an acting head in place, Emma Jones, who joined Howell's in September 2010 as head of the maths department.
In an initial letter to parents, school trustee Robbie Locke wrote: "The school trustees have commenced an internal investigation into reports received regarding management of the school.
"This process will not affect the teaching or the exam preparations, and all classes will operate as normal.
"Mr B Routledge and Miss H Price will not be in school while the investigation is under way."
Mr Locke apologised for making the announcement at short notice and assured parents the "investigatory process will be short".
He then wrote a second letter to parents which said "no real disruption" was expected to classes and extra teaching time would be provided should they be required.
'Protected and valued'
"Some parents have been asking for an update on our progress as regards the management changes at the school," Mr Locke wrote.
"As regards the issues we are investigating, we can confirm that these relate primarily to social networking and conduct.
"Most of the information we need for the investigation has already been gathered, and it is expected that an inquiry will be held next week.
"We apologise for any anxiety caused by the process, but can reassure you that school life is very much proceeding as normal."
The school released both letters to the media.
Howell's was founded in 1859 by the trustees of Thomas Howell, a cloth merchant who left a legacy of 20,000 gold ducats for the education of orphaned Welsh maidens.
'Engender enthusiasm'
The school website says: "We want to turn out young adults, able to meet the challenges of the modern world.
"We hope that by taking the best of the traditional British public school education and blending in a pragmatic approach to the realities of life and careers for the adults of today and tomorrow, we achieve this."
The website also carries a principal's message from Mr Routledge: "We want every girl to feel protected and valued, and we aim to foster a genuine love of learning, good work habits and a sense of achievement.
"We set out to engender enthusiasm and to ensure that the values of courtesy, sensitivity and responsibility are nurtured throughout each girl's time with us."
According to the school website, fees per term in senior school vary from £3,100 to £3,700 for day pupils and from £5,500 to £6,100 for boarders.