Talks to add Wrexham to north-south Wales rail link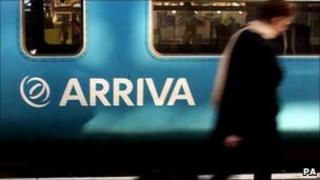 Talks are under way to try to include Wrexham on an express rail link between north and south Wales.
The Y Gerallt Gymro Holyhead to Cardiff service has been previously criticised for not stopping at Wrexham, while calling at several stations in England.
There are plans to increase the current service to two return trips a day.
The assembly government said it was discussing a Wrexham stop with Network Rail and Arriva Trains Wales (ATW).
It announced last week that it had offered £3.5m of support to ATW to run extra services.
ATW is planning to lease additional rolling stock for the extra services.
The assembly government said the money would pay to lease the trains up-front for seven years, saving £350,000 when compared to leasing them annually.
While the extra services were welcomed, the decision not to include Wrexham on the timetable was criticised.
However, an assembly government spokesman said: "We are holding discussions with Network Rail and Arriva Trains Wales to identify infrastructure and timetabling improvements, to speed up journey times, and to route Y Gerallt Gymro via Wrexham instead of Crewe, including enhancing the capacity of the infrastructure between Chester, Wrexham and Shrewsbury."
'Diabolical'
Aled Roberts, leader of Wrexham council, said the announcement was "diabolical".
He added: "The Welsh Assembly Government this morning stated that they continue to explore improvements to the service.
"They have been doing this since 2007 and can they confirm whether the agreed path that they refer to in the announcement will provide a service for the residents of Denbighshire, Flintshire and Wrexham?
"This service should not be launched until such time as it is able to provide a service for the whole of North Wales. "
Welsh Conservative transport spokesman Darren Millar said the assembly government and ATW should also discuss including a stop at Colwyn Bay.
"This is the largest population centre on the north Wales coast and it is still being completely ignored - it's absurd," he said.
"What we should be doing is investing in the dualing of tracks in those parts of Wales where it would make a much more significant reduction in travel times.
"We need to spend money wisely and give many more people an incentive to use public transport."
An ATW spokesperson said: "We are working closely with the Welsh Assembly Government and Network Rail to identify appropriate train paths so that Wrexham may eventually be served by north-south express services.
"There is currently only a single line section of track between Wrexham and Chester which severely limits the number of trains that can operate over this route."