School crossing 'lollicams' film Flintshire bad drivers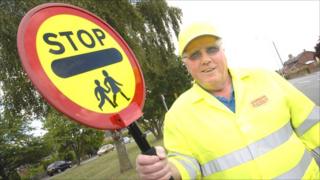 School crossing patrol wardens in Flintshire are to have video cameras hidden in their lollipop sticks to catch misbehaving drivers.
The scheme is the first pilot in Wales after being tried out in some towns in England and Scotland.
It's hoped the "lollicams" will help catch motorists who fail to stop or who are abusive at a crossing.
Flintshire council's Tony Sharps called it a "damn good idea" to deal with bad-tempered and impatient drivers.
Mr Sharps, executive member for the environment, told BBC Radio Wales that the "lollicams" will be put "discreetly" into the lollipops "and any disgruntled, impatient or bad-tempered drivers will be caught on film".
He said the trial was already under way although he would not reveal where exactly the "lollicam" patrols were.
Asked if the the lollipop wardens were happy at being being asked to act as "spies" by using the hidden cameras, Mr Sharps said: "I would have thought they're acting in the interests of the safety of our children, which is a very good thing.
He confirmed the video gathered via the "lollicams" would be regularly viewed and motorists found guilty will be fined.
He said: "Let's hope in future it won't happen twice because their patience will improve."
He admitted some people were opposed to the idea.
"You get one or two people who are against it but people like myself as a parent and grandparent... treat the safety of our children as a priority.
"So there's pretty well a mixed view but as regarding the safety of children I don't think it's up for public debate.
Mr Sharps added: "If people were a little bit more well mannered and a bit more courteous to one another these sort of things wouldn't be need.
"So whilst you've got this anti-social behaviour by these irresponsible motorists, unfortunately these new systems have to be put into place.
"It's bye bye Mr Speed Camera and hello to the lollicam to look after our children."