Aberystwyth seafront camper van action deferred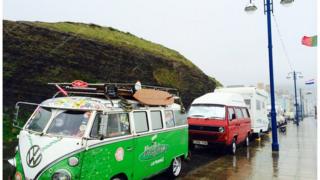 A decision on tighter restrictions to prevent long-term parking for motor homes and camper vans on Aberystwyth's promenade has been put on hold.
Ceredigion's cabinet has deferred a decision on a traffic order to force vehicles to leave the town's promenade up to four hours after parking.
The move followed complaints that some camper vans were left for weeks at the south promenade last summer.
Councillors have backed restrictions on another part of the promenade.
On Tuesday, the cabinet decided they needed more information before backing or rejecting a plan to allow vehicles to park for four hours on the south promenade between 08:00 BST and 18:00 BST between Monday and Saturday with no return within four hours.
But councillors agreed to restrict waiting times to two hours with no return within two hours at the town's Marine Terrace between 09:00 BST and 18:00 BST on every day apart from Sunday until 30 September.
The four-hour parking limit plan for the south promenade has been criticised by people living nearby who said it would stop them parking near their homes.
The local authority also received telephone requests from camper van users not to introduce the restrictions.
The cabinet could discuss the matter at its meeting in June.