Newtown Town Council to return to Victorian headquarters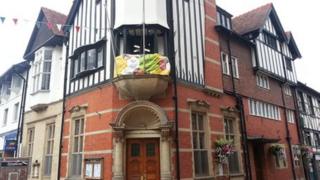 A town council is set to return to its Victorian headquarters following work to bring the building up to fire safety standards.
Newtown Town Council has been forced spend months in temporary accommodation after agreeing to spend more than £8,000 on repairs.
It had been thought that councillors would have to move to a new home because of the safety fears.
The building will officially reopen on 17 May.
Before then, a public surgery will be held on 12 May between 16:00 and 20:00 BST.
The council will share the ground floor of the building with a museum honouring the Newtown-born social reformer Robert Owen, after being forced to use another office in the town since 17 January.
Mayor Rina Clarke said: "It's so good to be back and what better way to reopen our doors than with a public surgery?
"We look forward to seeing as many people as possible and are seeking their views on a range of topics, in particular the possibility of a traffic-free market on Broad Street on Tuesdays.
"We are immensely grateful for the support and co-operation of the Robert Owen Museum, Sarah Brisco Trust and Mid Wales Food & Land Trust in making an exciting community space on the ground floor of the building possible and look forward to meeting as many of our constituents as possible."
The building was left to the council with instructions that it should be used for the community, with a trust established in 1998 to ensure this proviso.
Last year the town council's HQ was branded "unsafe and unacceptable" in a fire safety report.
It had explored the possibility of moving to one of Powys council's buildings before deciding to upgrade its present headquarters and stay there.