Talybont residents celebrate village green victory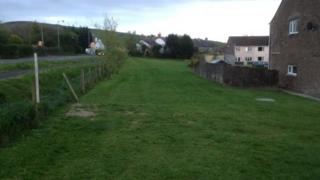 Residents of a Ceredigion housing estate are celebrating winning village green status for their playing field.
The victory means housing association Tai Ceredigion has been blocked from building houses on the land at Maes-y-Deri in Talybont.
Tai Ceredigion had claimed not enough locals used the plot, but residents said it was one of the few places on the estate children could play.
Now locals can carry on using the narrow strip of land.
Tai Ceredigion had been given planning permission to build four houses at the site on the 60-house estate.
But in a bid to stop the land being built on, locals launched an application to register the field as a village green.
'Fight'
Residents had to prove the plot has been used by people for more than 20 years for activities such as playing football and picnicking.
The application was lodged by resident, Sue Jones-Hughes, who said people living on the estate were unhappy about the location of the planned houses.
She said: "We've got nothing against social housing development but spaces for children to play is now so limited on Maes-y-Deri we felt we had to fight to keep this space for our children and grandchildren.
"This is a great victory for us but we couldn't have done it without the support of local residents and the people of Talybont."
Ceredigion council appointed barrister Emyr Gweirydd Jones as the application's inspector, who held a public inquiry in the village last October.
Tai Ceredigion claimed the application should be refused because Talybont rather than the Maes-y-Deri estate was the local neighbourhood.
But Mr Jones said: "I have no doubt that Maes-y-Deri is a neighbourhood and it is the appropriate neighbourhood when considering this application...it is a community within a community."
Llyr Edwards, Tai Ceredigion's property services, said: "Tai Ceredigion was very disappointed to finally receive the news from Ceredigion council regarding Village Green Status of the land at Maes-y-Deri in Talybont."
A Ceredigion council spokesman said the local authority would proceed with the registration shortly.