Cardigan flood victims get £8,000 from local donations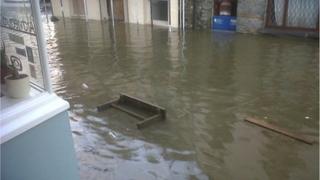 A fund set up to help victims of severe flooding in a Ceredigion town has distributed £8,000 to those affected by the deluge.
More than 30 properties near the River Teifi in Cardigan were flooded after storms battered the community on 3 January.
The money was distributed equally by a committee set up by the town council.
It will be used to help residents replace items destroyed and damaged by the floods.
The fund was initially launched to help a heavily-pregnant woman who had lost her bed after the surge of water.
Cardigan town council then took over responsibility for cash donations to the collection.
'Real difference'
The fund was started by Phillipa Noble who said there had been terrible destruction to properties including severe damage to carpets and furniture.
She added: "The whole community pulled together at a difficult time and I am glad that something good has come out of a bad situation."
The flooding affected the St Mary Street, Gloster Row and Strand areas.
Cardigan councillor Catrin Miles said: "The committee decided to distribute funds equally to those affected.
"Individuals and organisations who donated money have made a real difference to those who suffered flood damage in their homes."
Mrs Miles added that Ceredigion council, Natural Resources Wales and Welsh Water have set up a plan to ensure that area of Cardigan would not be flooded again.