Mid Wales Dutch master painting expected to fetch £100,000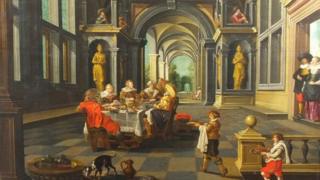 An oil painting by a Dutch master discovered in a mid Wales country cottage is expected to fetch more than £100,000 when it is sold at auction.
'Dives and Lazarus' by artist Dirck van Delen will go under the hammer in Shrewsbury, Shropshire, on 16 April.
It is believed the painting has been hanging on a wall in the cottage near Welshpool for several decades.
But it was spotted by the head of art at Shrewsbury-based auctioneers Halls, who helped get the painting verified.
The painting was bought by the current owner's father from London art dealers in the 1930s and for many years hung at a family property in Gloucestershire before being moved to adorn the cottage near Welshpool.
Allan Darwell, head of Halls art department, said: "From the moment I saw it I knew it was 17th Century and special.
Banqueting
"Because it was so dark in the house, I couldn't see a set of initials on it.
"It was only when it was delivered to our saleroom and I examined it closely under lights that I identified the initials of Dirck van Delen."
The painting has since been identified by art historian Bernard Vermet, from the Foundation for Cultural Inventory in Amsterdam, as one of van Delen's earliest works - and also a rare piece.
"In many of his paintings, van Delen worked with other artists who inserted the figures," explained auctioneer, Mr Darwell.
"However, in this one, Bernard Vermet says van Delen has painted the whole work, which is quite rare."
Dated to the 1620s and measuring 2ft by 2.4ft (61cm by 73cm), the painting shows figures banqueting at a dining table with musicians, figures and a beggar nearby.
It is believed to depict the parable of Dives and Lazarus.