Aberystwyth damaged flats to stay empty for at least a month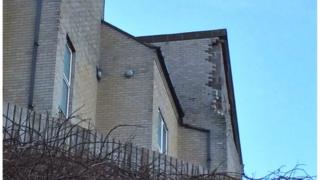 Residents of a 43-flat complex in Aberystwyth damaged by high winds will not be able to return for at least a month, a housing association says.
Residents of Plas Morolwg, owned by Cymdeithas Tai Cantref (CTC), have been living in guest houses and bed and breakfasts for the last week.
Ceredigion Council officers have said the building is temporarily unsafe.
Residents are now being moved to other accommodation.
Winds of nearly 100mph which caused damage throughout Ceredigion last Wednesday damaged external facia and brickwork at the complex overlooking the town's harbour.
Ceredigion council building control officers have issued a "Dangerous Structure Notice" which means the complex cannot be lived in by its residents, including 31 families, until emergency works are carried out.
Evacuation
CTC housing association's chief executive, Lynne Casale, said repair work would be carried out during the next month when security will be on the site.
She added: "Residents can have managed access to their homes during the day so that they can remove belongings they can carry.
"Unfortunately, it is not possible for them to remove furniture."
The housing association is providing cookers, fridges, beds, chairs and other furniture for residents who have had to move into unfurnished accommodation following the evacuation.
"We held a meeting with residents on Monday night so we can accommodate their individual needs until this situation is resolved," said Ms Casale.
"We are working with other local housing associations and Ceredigion council to move people to less temporary accommodation to open up as many options as possible."
Ms Casale said the most of the residents had been found accommodation in the Aberystwyth area.
"One family has asked to be accommodated in Lampeter because it suits them better for work, and others have asked to be based outside Aberystwyth because of individual circumstances."
One resident, Mike Petkovic, is living in a lodge at a caravan park on the outskirts of Aberystwyth.
"This has been very inconvenient and very annoying because it could take weeks or months before Plas Morolwg is habitable again, if at all," he said.