Aberystwyth replacement bandstand gets planning go-ahead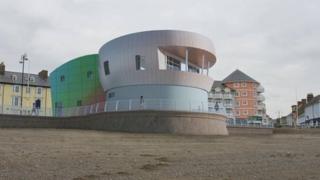 A controversial £1m project to replace Aberystwyth's bandstand has been given the go-ahead by Ceredigion planners.
The county council had put the project on hold in the wake of storms that ravaged the town's promenade in January.
The current structure has been a prominent landmark on the town's seafront since 1935.
More than 2,000 people had signed an online petition opposing its demolition.
It will now be knocked down and replaced with a two storey bandstand with a public performance space and a restaurant area.
Plans also include building a new sea wall to protect the new bandstand.
'Obscene'
An online petition created by local residents and signed by 2,083 people was sent to members of the planning committee before the meeting on Wednesday.
It called on the committee to reconsider the plans and claimed that it was "obscene to be wasting money on replacing the existing bandstand when money could be better spent elsewhere".
The council received 10 letters of objection raising concerns that the proposal is "out of keeping" with the Victorian promenade.
But the planning report said the current building "is regarded as being of little architectural merit" that does not "contribute significantly" to the promenade.
Aberystwyth Regeneration Area Board has already backed the scheme and earmarked £918,750 for the new building after providing £130,000 for a structural investigation in February 2013.
The local authority decided to review the proposals to redevelop the bandstand in January.
There are concerns a new building would not be able to withstand a pummelling from waves like the exceptional storms that hit the seaside town in early January.
The Welsh government named Aberystwyth as a regeneration area in October 2009 and it was awarded £10.3m in March 2010.
Projects which have already benefited from the fund include a circular road linking Aberystwyth University and the National Library of Wales, and a bus service which opened in 2012.
A scheme improving access to the railway station and an area for buses received £1m in 2011.