Aberystwyth parishioners back Cardiff brewery housing plan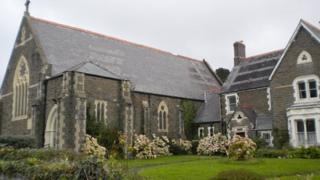 Parishioners have given their blessing to a joint housing development between a Catholic diocese and a brewery.
Worshippers backed plans by the Bishop of Menevia and Cardiff-based brewery SA to develop land they both own on the outskirts of Aberystwyth.
It is hoped that the money raised will be used to redevelop the St Winefride's church site in the town which was closed for safety reasons in 2012.
However no decision has yet been made about the church building.
The Bishop of Menevia, the Right Reverend Tom Burns, wants to use money for the land development in Penparcau to re-develop St Winefride's in Queen's Road in the centre of town for a church, parish hall and presbytery.
'Options'
Bishop Burns has previously said he wanted to demolish St Winefride's and build a new church in Penparcau after a report found the church site, which includes a dilapidated parish hall and presbytery, was not fit for purpose.
But some parishioners want the existing Victorian church to be renovated.
The bishop said it would cost more than £2.6m to renovate the building.
However, objectors amongst parishioners disputed this figure, saying a survey they commissioned put the figure at £625,000.
Mike Maloney, chairman of the Save Our St Winefride's (SOS) group, which was set up to save the church from demolition in 2012, said: "Parishioners voted to agree to sell the Penparcau site to fund the re-development of St Winifred's church.
"We need to consider how much money will be raised by selling the land in Penparcau so we can consider all the options available for the future of St Winifred's church."
Parish Secretary Anne Uruska said the bishop would return to Aberystwyth for further discussions with parishioners "in a few months".
A Diocese of Menevia spokesman said: "Bishop Tom Burns met with parishioners after all four Masses in Aberystwyth and Aberaeron on Saturday and Sunday 25- 26 January 2014.
"The outcome, by a huge majority, with not one person voting against, was that parishioners agreed to support the sale of land at Penparcau for the maximum value possible."
"When the amount of money is known from realising this asset, the diocese will hold further conversations with parishioners about providing a suitable church for worship in Aberystwyth."
BBC Wales has asked SA Brain to comment.