EU or Treasury cash for flooding clean-up 'unlikely', David Jones says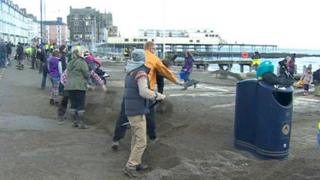 Wales is unlikely to receive extra funding to repair flooding damage, said Welsh Secretary David Jones.
He said the Welsh and UK governments already had schemes to help councils clean up after the recent storms.
Mr Jones said the Treasury was unlikely to release extra money and he doubted EU funds would be available.
Several Welsh councils are assessing the cost of the severe damage caused by high tides and gale force winds which battered the coastline.
The UK government is providing emergency financial assistance for English councils under the Bellwin scheme, which aims to help councils forced to spend more than 0.2% of their budget on exceptional costs.
Speaking on the BBC's Sunday Politics Wales programme, Mr Jones said that it was up to the devolved administration to take action in Wales.
He said: "But just to reiterate, I don't actually believe that there is probably going to be any extra money coming to England or to Wales because both England and Wales already have the necessary reserves to make payments under the Bellwin scheme."
The Welsh government has said it is in "daily contact" with the UK government about applying to the EU's solidarity fund to help cover the cost.
However, Mr Jones said the fund was only triggered in "exceptional cases".
He added: "I very much doubt whether the European Solidarity Fund would be resorted to on this occasion, but of course if it were necessary then of course it would be possible for the Welsh government to make its own representations."
Damage stretched across the country from Deganwy in Conwy county to the Gower but it was Ceredigion - particularly Aberystwyth seafront - that was worst hit.
Surveyors are estimating the cost of repairing damage to the Ceredigion coast, which one councillor has put at more than £1m.
Plaid Cymru MEP Jill Evans said applications to the solidarity fund must by made by the UK government as the member state.
Plaid Cymru Aberystwyth councillor Mark Strong said: "There's money that goes to Europe that's available for us to fix this damage and the government in Ireland has put a bid in already to that fund to get money.
"Where is our government? They obviously don't care about us in Aberystwyth. They are not bothered and they've said it's up to the Welsh assembly to sort out it out - they know the coffers are empty there."
Natural Resources Wales said it was working with local authorities to assess the damage and the most urgent repairs.