Aberystwyth University in jobs row with union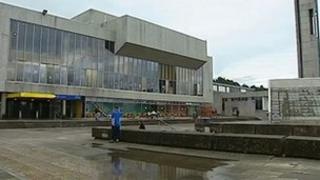 A row has broken out over an Aberystwyth University plan which a union fears could see 19 posts being axed.
But the university said "a broadly similar number of roles" would remain if current proposals for new structures for its clerical staff were accepted.
The University and College Union (UCU) claimed the plan could shed 19 of the 91-strong administrative workforce.
It also claimed its position had been "misrepresented" by the university.
Details of the proposed new structures for clerical and administrative staff were circulated for consultation on 11 December "with the agreement of local representatives and full time officers of Unison, Unite and UCU unions", according to the university.
But the UCU has challenged the university's claim.
"We wish to make it absolutely clear in the documentation sent to staff that the new structures and new process have not been endorsed in any way by the UCU and we have been misrepresented," said an UCU spokesman.
"We have been contacted by a lot of distressed staff and we are concerned that specific groups are being specifically targeted which will lead to the loss of 19 full-time equivalent posts.
"A number of the support staff are on 30-hour contracts which are often parents of young children.
"Our legal advice is this could constitute indirect discrimination which targets part-time workers which are mainly women.
"A lot of posts on higher grades could also be affected which would mean that workers in their late 40s and early 50s with a lot of institutional experience could also be discriminated against."
'Extremely disappointed'
An Aberystwyth University spokesman said it had been reviewing the structures for clerical and administrative staff and had been working "closely" with trade unions.
He added: "This process will, wherever possible, facilitate the transfer of staff from existing roles to new roles of a comparable grading in the proposed new structure without being put 'at risk', which would have been unavoidable under the university's current process.
"The final process and structures will not be agreed until the consultation has been completed. However, it is important to note that the current proposals would mean a broadly similar number of roles in the new structure.
"The university is extremely disappointed that local representatives of UCU have chosen to completely ignore the constructive way in which the negotiations leading the current consultation have been conducted with local and full time union officials and acted in a way that is intended to cause unnecessary distress to valued colleagues at such a sensitive time of the year."
The consultation will come to an end on 28 February.