Plascrug Avenue trees 'have £28,000 eco-impact worth'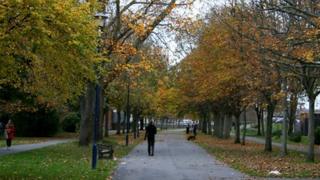 Plaques detailing the environmental benefits of trees are to be placed at each end of a Ceredigion avenue.
Student Gwion ap Dafydd claims to have calculated the "eco-impact worth" of 200 trees along Plascrug Avenue in Aberystwyth as £28,000 a year.
The research was conducted on behalf of the Greener Aberystwyth Group (GAG).
The figures - examining factors such as removing greenhouse gases and reducing storm water flows - will be fed into a national database.
Called Treezilla, it is a project to map Britain's trees.
The plaques will be erected in Plascrug Avenue to mark The Tree Council's National Tree Week.
Mr ap Dafydd, from Goginan, is studying an environmental science degree at the University of East Anglia, Norwich.
He said: "Hopefully, my work in Aberystwyth and that of GAG, along with other projects such as Treezilla, will help to raise awareness of the value of urban trees."
Dafydd Fryer, of Natural Resources Wales, said: "Trees are among the most versatile assets available to planners, policy makers, businesses and communities to improve the quality of Welsh towns and cities in a cost-effective way.
"In addition to capturing and storing carbon, 'scrubbing' pollutants from the air we breathe and easing flooding risks, trees can regulate the climate in urban areas so saving energy costs of cooling buildings in summer and heating buildings in winter."