Ex-postman Stephen Jones wins physics teaching award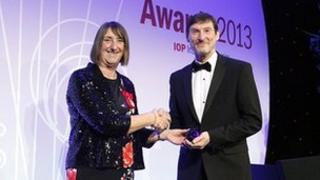 A former postman who gave up his job to study physics has won a teaching award.
After 14 years delivering mail, Stephen Jones, 47, enrolled at Aberystwyth University and later became head of physics at the town's Penglais School.
He has received an Institute of Physics teacher award after being described as an "exceptional teacher".
Mr Jones said he changed careers in "one of those mid-life crisis moments" and was "incredibly humbled" by the award.
Aberystwyth-born Mr Jones said he left the Post Office after 14 years in 2001.
"There was nothing to go for career-wise in the Post Office so I went for teaching," he said.
At the age of 35 he started a physics degree, graduating with first class honours four years later.
Employed by Penglais School in September 2006, he became head of physics in 2008 and teaches more than 30 students A-level physics each year.
He said he was "very proud" to be nominated for the award by peers.
The award citation read: "He has worked tirelessly to develop the introduction of the BTEC Applied Science course, and has introduced the Crest awards scheme for special needs pupils, which has helped enormously with motivation and given pupils a great sense of achievement."
Mr Jones was presented with the award - designed to celebrate the success of scientists, teachers and business leaders - at a ceremony in London.
Matthew Brown, Penglais School headteacher, said: "Steve Jones is an asset to Penglais School.
"He is also an excellent role model for those people considering changing careers to become a teacher.
"After 14 years working as a postman, Steve took the brave step of enrolling as a full-time student at Aberystwyth University to study physics."