Aberystwyth bandstand design 'too modern and big'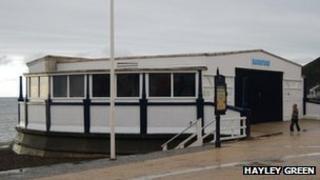 Plans for a new bandstand on a promenade in Ceredigion are too modern and too big say some residents.
The current structure has been a prominent landmark on the seafront in Aberystwyth since 1935.
Residents say plans recently unveiled have changed since the matter was put before the public earlier this year.
Ceredigion council said the new bandstand would be discussed by councillors next month.
"There is definitely a need for a new bandstand but the promenade has a Georgian/Victorian facade and this design is quite modern," Aberystwyth hotel owner Richard Griffiths said.
"The design is also different to what we were shown before and it is larger - which could create problems during events such as runs and the carnival."
Dr Marian Loffler, who works in the town, said any design should fit in with its location.
"I too think it will be too big. I like to cycle and my children like to roller-blade along the promenade.
"If this area is made narrower there might be issues with walkers and joggers etc - it's a practical problem."
Ceredigion council said the new two-storey building had been designed to provide more room and to include a cafe, hall/theatre, and public toilets.
The application is due to go before councillors in December.