Pontardawe shopkeepers say parking charges cuts business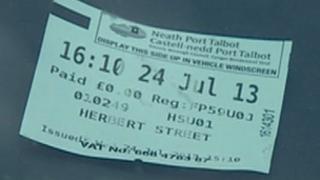 Shopkeepers in Pontardawe say their businesses are suffering since the local council introduced parking charges in the town.
Traders say that since May, when the charges came in, takings are down by two thirds.
It is claimed shoppers are going to the out of town retail park, where there are no parking charges.
Neath Port Talbot Council says the aim is to free up more spaces and the policy will be reviewed in 12 months.
Traders say however that customers are now avoiding the town altogether.
Linda Grimes, who runs a wool shop in Herbert Street, is one of those affected.
She said: "They've had a dreadful impact. As soon as they put up signs in the car park people have driven past.
"It's only now they've started to go in but they're not all coming back and it's driven a lot of people out of the town."
Most of the controversy surrounds the bypass car park on the edge of Pontardawe.
According to the council most visitors only spend a short time in the town centre and since the first hour's parking is still free they will not be affected by the changes.
After the first hour it is 50p to park for up to 3 hours, £2 pounds for a fourth hour and £3 for longer.
In a statement Neath Port Talbot council said the main intention of the car park strategy was to "create turnover of parking spaces" and "unify the parking charges policy in the county borough and bring fairness to the main town centres".
But traders say it is unfair to compare Pontardawe with larger towns such as Neath and Port Talbot, and it is not clear enough to visitors that the first hour's parking is free.
The council has said it will review the situation after 12 months.