National Library of Wales fire: Company working on roof in liquidation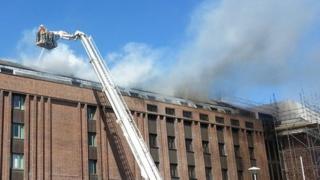 The company which unintentionally started a £5m blaze at the National Library of Wales, Aberystwyth, has gone into liquidation.
M.E.M. Construction acknowledged in a letter to creditors that during work on the roof a fire had broken out as a blow torch was being used.
The National Library said its solicitors were present at M.E.M.'s liquidation meeting on Friday.
Last month the library identified some of the items damaged on 26 April.
M.E.M. Construction's letter adds that the National Library owes them £52,000 for work already carried out by the company.
It also says that solicitors for the library presented the company with a bill of nearly £4m.
The construction company argues however that there was a necessity for the library to have insured their property against dangers such as fires, whatever the cause.
Archive material which was smoke or water damaged beyond repair included papers relating to Welsh football and the Wales Green Party.
Three boxes of 19th Century chapel records from Carmarthen had already been identified as destroyed.