Montgomery: Tributes paid to 'stalwart' Madge Richards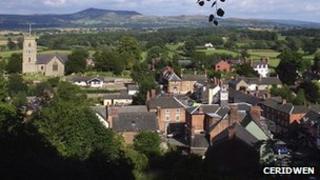 Tributes have been paid to a former Powys mayor described as one of her town's "greatest ever champions".
Montgomery councillor Madge Richards, who was aged in her 80s, died last week after a short illness.
Montgomeryshire's Conservative MP Glyn Davies said she had made a huge contribution to town life after many decades as a councillor.
The community's mayor Mike Mills said Mrs Richards was a "stalwart of the town" and her death was a "great loss".
Mrs Richards's husband Brian was also a former mayor of Montgomery and served as its county councillor before his death a few years ago. Mr Mills said they had made a "formidable team".
Around 100 people toasted Mrs Richards's memory at a party following a street fair in Montgomery on Saturday night.
"She was mayor more than seven times. Her death is a great loss to the town," Mr Mills said.
"She was a great organiser and was responsible for many things in the town over the years, including the Christmas lights and the flower club.
"Many of the clubs and societies she helped set up are still going and that is down to all her hard work over the years. She really was a stalwart of the town.
"Madge also had a great sense of humour and a sense of fun."
'Sense of humour'
Montgomeryshire MP Mr Davies said Mrs Richards had been a leading civic personality in Montgomery for as long as he could remember.
"I served with her late husband Brian on the Montgomeryshire District Council in the 1980s, and with both him and Madge when they were both prominent figures in the public life of Montgomery," Mr Davies added.
"Madge served several terms as mayor of the town and was hugely respected.
"I also found Madge to be good company at a personal level and over recent years we've managed to enjoy a chat about local issues every few weeks.
"She had a lovely sense of humour, and great knowledge of local history and the various political shenanigans that are a feature of every town in Wales. She used to keep me up to speed on what was happening locally."
He added: "I'm sure her memory will stay with Montgomery for many years into the future. The town has lost one of its greatest ever champions."