Shed of the Year: DJ Badly Alex Holland's boat lands UK title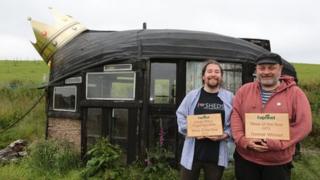 A humble garden shed with an upturned boat for a roof and built with recycled items from a 1940s caravan has scooped the UK Shed of the Year award.
Alex Holland, from near Machynlleth, Powys, beat off competition from 1,900 rivals to take the crown.
He performs as a DJ and uses his shed to prepare running orders for his music, including those for Glastonbury where he performed as DJ Badly.
He wants to use his £1,000 prize money to buy a wind turbine for his shed.
The 14ft (4m) by 7ft (2m) structure is already solar powered with a gas cooker, fridge, sink and sound system used for parties. He charted the development of his project on Facebook.
Mr Holland acquired the boat from his work at a boatyard and built the shed out of a need for more space.
He has said it is full of "nautical nonsense befitting a boat turned upside down" in the Cambrian Mountains.
"The standard and creativity shown by the other entrants has been incredible so I am genuinely surprised to have reached the top spot," he said.
Mr Holland said he intended to buy a second hand wind turbine to boost the power in the shed and give him "enough electricity to make ice in the fridge for gin and tonics and to ensure the cider and beer are always chilled".
"I'll then be able to have a proper party to celebrate with those who have supported me in getting so far," he added.
"I use my shed to work on my running orders for my job as a DJ. I have quite a good sound system in there. I've just come back from Glastonbury where I did a few sets."
This year's winner was selected by judges including Channel 4 property presenter Sarah Beeny, British designer, writer and television presenter Kevin McCloud, Shed of the Year founder Uncle Wilco and 2012 winner John Plumridge.
Mr Holland's shed is built entirely from recycled materials.
The roof is made from a former inshore clinker, a method of shipbuilding where wooden planks are attached to a hull so that they overlap each other, which fished around Cardigan Bay in the early 1900s.
Tardis
The walls are from aluminium-framed windows from a 1940s caravan and single glazed windows from his 400-year-old farmhouse.
Other walls are made of wattle and daub, a mixture of mud, clay, and straw stuck onto a woven frame. The rear of the shed is clad in old corrugated metal sheet painted in black bitumen.
Mr Holland made it to the 2013 Shed of the Year final after winning his category.
He was joined there by a replica Tardis shed and a cider bar as well as another with a nautical theme, a boat-shaped den complete with a top deck.