Man V Horse race: Rider Alix Davies disputes disqualification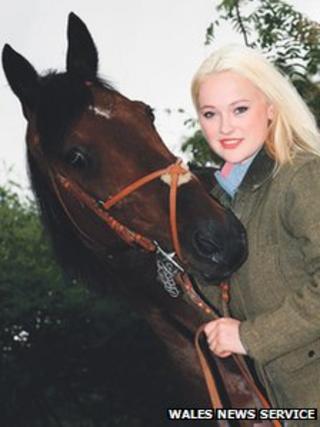 A rider who was first across the line in the annual Man v Horse race has described her disappointment after she was disqualified.
The race sees runners and riders compete against each other over a gruelling 22 miles (35km) in Llanwrtyd Wells in Powys.
Alix Davies's horse was inspected by a vet after the race and was declared lame, prompting her disqualification.
The organisers said the checks were in place to ensure the animals' safety.
Ms Davies, 18, who runs her own business breaking in and training horses, claimed her mount, Scott, would not have been able to win the race if he had been lame.
"I won the event. How could my horse have won if he was injured?" said Ms Davies, who took part in the race on 8 June.
"I crossed the finish line, was handed my rosette and Scott and I had our pictures taken.
"Then all of a sudden the vets said Scott was lame, that he had a limp or a race injury and they disqualified me. But he wasn't lame, he was fine."
Lindsay Ketteringham, the chairman of Green Events which stages the race, said he understood Ms Davies was disappointed but organisers were not going to contradict the judgement of its three vets.
"Her horse was first across the line but the result was not in accordance with the rules which are in place at horse endurance events," he said.
'Disgraceful'
"The winning horse has to pass a vet check within 30 minutes of the finish and her horse did not pass that check.
"The vet said the horse showed signs of being lame and Ms Davies disputes this. We have three vets on duty and we are not going to contradict their judgement."
Mr Ketteringham said riders taking part in Man v Horse signed up to a set of rules before the race, adding that it was not unusual for horses to pick up injuries on cross country events.
"Basically, it's (the vet check) a safety measure so riders don't ride their horses too hard, but there's no indication Ms Davies pushed her horse too hard."
He said she was wrongly given the winner's rosette after crossing the line but rider Betti Gordon was declared the eventual winner.
Ms Davies's father Paul, of Newbridge-on-Wye, Powys, branded the decision "disgraceful".
He also questioned why injuries cause disqualification when it did not matter in races such as the Grand National.
Runners and riders have competed for the £1,050 first prize in Man v Horse since 1980.
It was started by pub landlord Gordon Green who overheard two drinkers in his Neuadd Arms Hotel discussing the relative merits of men and horses running over mountainous terrain.
But it took 25 years for two legs to beat four when Huw Lobb became the first runner to win the race.