Control Techniques plan 40 new jobs in Newtown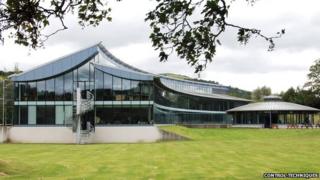 One of mid Wales' largest employers plans to create 40 new jobs as part of an expansion of its Powys headquarters.
The Welsh government is set to invest £1.5m in an engineering and design facility in Newtown for industrial electronics company Control Techniques.
The firm, which employs about 530 staff in the town, said the new building would then be leased back to it.
Work is planned to start this autumn, subject to planning, and is set to be completed in summer 2014.
Control Techniques, founded in Wales in 1974 and owned by US firm Emerson, makes drives for a variety of machines.
The new highly-skilled engineering and design jobs would help develop new products.
The firm said the scheme was part of its continued global expansion, adding that it was upgrading its entire product line.
A number of temporary construction jobs are also expected to be created during building work.
Enrique Minarro Viseras, president of Control Techniques, said: "I am delighted to announce that Control Techniques plans to expand its Newtown operations - potentially creating up to 40 new jobs in the process.
'Key employer'
"Newtown remains a vital part of our global operation and is a cost-effective and attractive location for our HQ."
The company's plans have been welcomed by Montgomeryshire's Conservative assembly member Russell George.
"I'm pleased that the Welsh government has invested in this new unit development, and the creation of 40 new jobs at Control Techniques as a consequence is very welcome news indeed both for Newtown and the wider regional economy," he said.
"The business is a well-established employer in the town and focuses on technical, highly-skilled jobs.
"This announcement reinforces its position as a key employer in the town and I think gives a vote of confidence that the local economy can develop if properly enabled by Welsh ministers."