National Library of Wales fire destroys chapel's records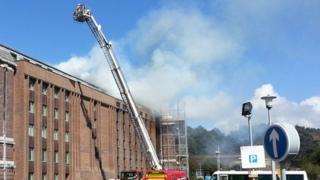 A precious archive collection from a chapel is understood to have been destroyed in the fire at the National Library of Wales.
Three boxes of records from Tabernacle Baptist Chapel in Carmarthen, which dates back to the 19th Century, were burnt, the chapel's minister said.
Reverend Peter Cutts said he was informed by the library in Aberystwyth following the fire last month.
The library is still contacting those affected and has refused to comment.
Mr Cutts thought that the papers were going to be sent to the Carmarthenshire archive service at the time of the fire and "they would have been fine had they been in their usual place".
Mr Cutts describing the loss as "amazing misfortune" and he was waiting to hear back from the library.
The fire, which gutted a section of the library's roof on 26 April, started accidentally by workers using a blowtorch.
The cost of repairs is expected to be up to £5m.
Last year, the chapel's previous minister Reverend Desmond Davies published a book called The People of Dark Gate, which chronicles the chapel's history up until 1968.
Mr Cutts said the book would provide "some comfort" because it records many details which might otherwise have been lost.
The history of the Baptists in Carmarthen dates back to 1650, when a branch of Ilston chapel in Gower was founded there.