BBC Springwatch at Ynys-hir examines late spring impact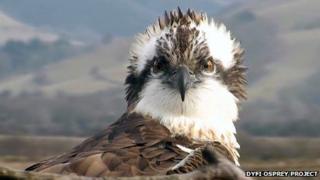 The effect of the "very late" spring on nature in mid Wales is to be the focus of the BBC's Springwatch programme.
"We'll be seeing how this spring has manifested itself and unravel how that has had an impact on wildlife," said presenter Chris Packham.
For three weeks from Monday, the live show will also explore new woodland, reed bed and rare bog areas of the RSPB's Ynys-hir reserve in Ceredigion.
Packham also promised "one of the sexiest" birds' nests will feature.
Producers are hoping the live programmes and webcams will provide an opportunity to see lapwing, redshank, teal, reed bunting, sedge warbler, stonechat and bullfinch.
Ynys-hir is managed by the RSPB and covers 700 hectares at the top of the Dyfi Estuary.
It features a huge variety of different habitats including oak woodland, wet grassland and saltmarsh, reed beds, heath land, rivers and ponds.
The reserve is home to a wide diversity of animals and plants, from otters to orchids and barn owls to bumblebees.
"It is tremendously exciting to be back at Ynys-hir, it's a wonderful site, a beautiful place - incredibly lush," presenter and naturalist Packham told BBC Wales.
"It is weird too - it doesn't seem like a year since we were here. You spend a month really getting to know the habitat, and then don't see it for so long."
The programme has relocated its base camp for the series, and have been given access to rare marshland that will give viewers an intimate look at wetland wildlife.
For the Springwatch programme more than 30 high definition remote cameras film the reserve, from leaf litter on the ground to the highest tree tops.
All this is connected by nearly 40 miles of fibre optic cables, and all the action will also be streamed live online and on BBC Red Button.
"Birds have been nesting a bit later this year, and many of the nests still have eggs in them, and we can only put our cameras in there when there are chicks - we have to be very, very careful to protect the birds," explained Packham.
"But I can promise that we have found one of the sexiest nests ever - I can't reveal more about it - but people are going to love it."
The effect of the continuing cold weather through March, April and May will also provide a focus for the the programmes.
"Spring is very late," said Packham. "We'll be seeing how this spring has manifested itself and unravel how that has had an impact on wildlife."
It includes films looking at how the cold weather across Europe this spring has affected the migration of birds, with some breeds simply not making their annual stopover in Britain.
Championing 'underdogs'
Welsh conservationist Iolo Williams is also lending a hand, out on the road with a mission to capture the best of the UK's wildlife action as it happens.
There will also be a series of features on what Packham described as "underdogs" of the wildlife world - including the mallard duck, large white butterflies, and the garden snail.
"We will witness some extraordinary behaviours - and I hope it will make people think twice, especially about the butterflies and snails - often seen as the gardeners' worst enemy," he added.
"I feel confident that we are going to have a very strong series, and we will be grappling with some very important issues.
"As always, it is a challenge - it's live, and things can change during the day or the week. You never know what is going to happen."
This year also sees the launch of Springwatch in the Afternoon, which will be broadcast across the first two weeks of Springwatch on Tuesdays, Wednesdays and Thursdays.
Wednesdays will also see Springwatch Unsprung straight after the main Springwatch show, with a mix of photos, questions, special guests, rarities and oddities.
The Springwatch webcams will be online, on BBC Red Button, tablets and mobile, 24 hours a day, seven days a week, with Euan McIlwraith returning on Springwatch Extra each night after Springwatch.
Springwatch is on air during the week on BBC Two from Monday 27 May at 20:00 BST for three weeks.