National Library of Wales fire damage list given to trustees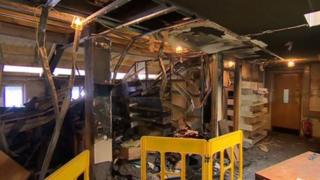 A list of items destroyed in a fire at the National Library of Wales is being presented to its board of trustees.
An investigation found the blaze was started accidentally by workers using a blowtorch who had been carrying out repairs to a flat roof.
Water-damaged pieces of the library's historic collection were moved to Oxford by a team of salvage experts following the fire on 26 April.
It affected an area used as office space and for new acquisitions.
Further details of the material destroyed are expected to be revealed later.
The cost of repairs that gutted a section of roof is expected to reach up to £5m.
Library managers said last week they were in talks with insurance companies and the Welsh government over the bill.
Culture minister John Griffiths pledged to support the library at a "difficult period" during a recent visit when he inspected the scene.
The Welsh government said last week it was waiting for details about the extent of the fire damage.
The library said hundreds and possibly thousands of books had to be dried out after water used to fight the flames leaked through five or six floors.
Early reports from the scene said a section of roof was destroyed on what is known as Building Two, but the library has confirmed that in fact it is known as the Third Library Building Offices.
The library reopened to the public three days after the roof fire broke out.