Lake Vyrnwy sale: Village without football team leases pitch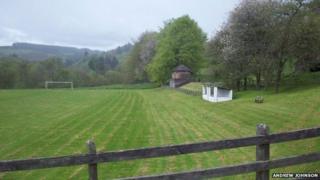 A village without a football team has secured the future of a disused pitch after it signed a deal with a water company selling a 23,000-acre estate.
The pitch in Llanwddyn is part of the Lake Vyrnwy estate in Powys being sold by Severn Trent.
The village football club folded four years ago, but the community council hopes to reform the team after agreeing a 50-year rent-free lease.
The water firm is selling off several parcels of land in the area.
Community council chairman Andrew Johnson said councillors wanted to develop village sport.
The lease was signed recently with Severn Trent before it sold 17 houses and the football pitch to the William Pears Group, a property and investment firm which bought one of the four lots on the market at Lake Vyrnwy.
"There hasn't been a football team in Llanwddyn for four years but Severn Trent has been maintaining the pitch and the goal posts are still there," said Mr Johnson.
"The pitch has been there for decades and we'd like the football club to reform.
"There are no costs to the community as Severn Trent agreed the pitch should be rent free as part of the 50-year lease. The only thing we have to do is maintain the field.
"But Severn Trent has also agreed to fund the first year's maintenance and the cost of repairing the fence surrounding the field."
The pitch is to be renamed the David Rowlands Community Field after a founder member of the UK Independence Party (UKIP) who died earlier this year.
Mr Rowlands was also a former manager of the Lake Vyrnwy estate.
The sale of the estate on a 125-year lease has been described as the biggest in living memory in Wales and England.
The lots include 12,000 acres of farmland and 5,000 acres of forestry.