Llangorse Lake warning after drainage ditch polluted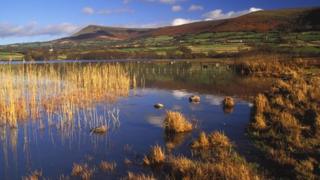 People are being warned to keep off a popular lake after a farm vehicle overturned, spilling 400 litres of a chemical into a nearby drainage ditch.
Tests are being carried out on the water at Llangorse Lake near Brecon after the incident involving diluted herbicide.
Public Health Wales said people should stay off the lake as a precaution until the test results were known.
Llangorse Lake is a popular location for water sports and with anglers.
Natural Resources Wales (NRW) said its officers and the fire service contained much of the pollution by pumping out water from the ditch, which reduced the amount of herbicide entering the lake.
The alarm was raised shortly after 09:30 BST on Thursday with fire crews from Talgarth, Brecon and Crickhowell attending the scene, along with a specialist environmental unit.
Toxic to fish
NRW said the incident happened when a farm vehicle carrying the chemical overturned on a road near the lake. It is not known if the driver was injured.
Water samples are being analysed and signs have been erected around the lake warning people about the spill.
Joe Mathias of NRW said: "The priority for us has been to contain and remove as much of the pollutant as possible and minimise the impact of the pollution entering the lake.
"Herbicide is highly toxic to fish and other wildlife, so we've taken a number of water samples to help determine what kind of impact this is likely to have had on the water quality.
"We'll be taking further samples today and will be closely monitoring the water quality and any impact on wildlife within the lake over the coming days."
Huw Brunt, consultant in environmental health protection for Public Health Wales, said: "There is currently no evidence of any risk to public health from the pollution incident at Llangorse Lake, but the public are advised to comply with warning notices at the lake as a precaution."
"Public Health Wales continues to work with its partners to monitor the situation and, in the event that a potential risk to human health is identified, will issue appropriate advice," he added.
Water sports and fishing were banned at Llangorse Lake for around a month last summer after a potentially toxic blue-green algae was found.