Motorcyclists targeted in road safety drive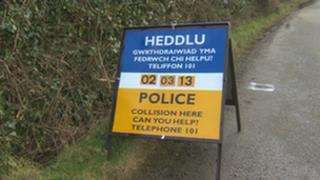 Motorcyclists are being urged to take greater care on roads in Wales as part of a £6m road safety drive, with mid Wales seen as an accident blackspot.
Nearly 70 bikers were killed or injured in Powys in 2011 along with 53 in Carmarthenshire and 51 in Swansea.
They accounted for 37% of the people killed or seriously injured despite making up only 1% of the traffic.
Transport Minister Edwina Hart said mid Wales had a "disproportionate" casualty rate.
The quiet, rural roads of Powys are known to attract visiting motorcyclists from the midlands and south Wales, especially on summer weekends.
There have been a variety of safety campaigns by the police and councils in Wales over the years to try and cut death and injury rates.
"Motorcyclists are amongst the most at-risk groups of road users in Wales," said Mrs Hart.
"We have not seen a significant reduction in casualty numbers amongst motorcyclists over the last decade, in contrast to the reductions amongst other groups of road users. This is not something that I consider acceptable."
In Powys, 68 motorcyclists were killed or injured in 2011, with 51 of the incidents involving bikes with over 500cc engines, according to the latest available statistics.
"Mid Wales does have a disproportionate number of motorcyclist road casualties," added Mrs Hart.
"Statistical analysis has shown that these tend to be male riders on powerful bikes, during the drier months of the year.
"We will continue to work with Dyfed Powys Police and other partners through Operation Darwin which targets these riders to educate them about the importance of safety and, where appropriate, enforce the law."
Other areas of Wales with worrying crash rates include Carmarthenshire, which had 53 motorcycle casualties in 2011. Swansea had 51, Cardiff 43, Denbighshire 38, Flintshire 36 and Gwynedd 35.
'Cause for concern'
Mrs Hart said some of the £6m road safety funding would be used to fund advanced rider training courses, practical safety advice, targeted publicity and engineering schemes.
"I will also soon publish our road safety framework," said the minister.
"The consultation document highlighted the vulnerability of motorcyclists, included a specific target for casualty reduction amongst this group and placed an onus on partners to actively engage with riders."
Montgomeryshire's Conservative AM Russell George hopes Powys council will receive a significant share of the road safety funding.
"I welcome the statement from the minister, particularly highlighting the real problem of motorcyclist road casualties that exists in mid Wales," he said.
"It's a real cause for concern."
Welsh Liberal Democrat leader Kirsty Williams, AM for Brecon and Radnorshire, said: "We all have a part to play in making our roads safer.
"I will continue to work with Welsh government, Dyfed Powys Police and all road users to try to achieve this."