Aberystwyth doctor six-month ban for 'flirting' texts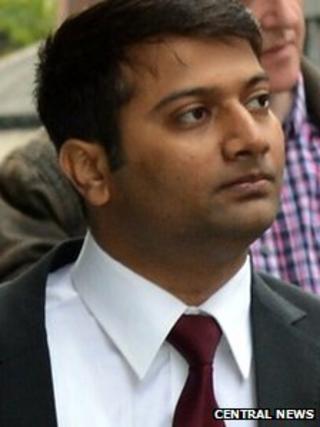 A doctor who worked at Aberystwyth's Bronglais hospital has been struck off for six months after sending flirtatious texts messages.
A tribunal in London heard that Dr Aamir Majeed accessed medical records to obtain the phone number of the 18-year-old female student.
She had visited Bronglais in 2010 with an ankle injury.
The Medical Practitioners Tribunal ruled that the behaviour amounted to serious misconduct.
Suspending Dr Majeed from medical register for six months, the tribunal panel chair said the behaviour was "likely to undermine public confidence in the profession".
"Your misconduct undermines the trust that patients and the public are entitled to place in doctors and has brought the profession into disrepute," said Prof Stephen Miller.
The hearing was told that the student patient, referred to throughout proceedings as Patient A, attended the A&E department at Bronglais in October 2010 after injuring herself on a night out.
Following an x-ray, she was taken into a side room by Dr Majeed to be shown how to use crutches.
The tribunal heard that the doctor told the woman that she was "pretty" and said "you remind me of my little sister back home".
Before she left the room, Dr Majeed stood by the closed door and pointed at his cheek, implying she could not go until she had kissed him.
She did so because she felt intimidated by him and wanted to go home, said Simon Jackson QC, representing the General Medical Council.
"She thought the request was over-friendly but put it down to that Dr Majeed was from another country and this followed on from his earlier comment," said Mr Jackson.
Facebook request
It later emerged that Dr Majeed had obtained the student's mobile phone number from records, and she began receiving unsolicited text messages from the doctor.
The messages included: "u r very cute indeed" "very glad to know that u r fine now let celebrate this n have some fun on weekend " and "plz dnt say no u know I like u too much dnt break my heart".
The messages stopped after she told the doctor that she had a boyfriend, but almost a year later he sent a Facebook friend request on the social media site.
Giving evidence, Dr Majeed told the panel he now knows what he did was wrong and said he had attended a number of courses to correct his behaviour.
"I think it's totally inappropriate to make these kinds of comments to a patient because personal comments can lead to the patient to have a false belief or impression that the doctor is interested in the patient or the patient has a bad impression of the doctor," he said.
"I feel very sorry for what I did. It is totally wrong, inappropriate behaviour."
Sanctions
The tribunal panel said Dr Majeed's actions were "highly inappropriate".
"Your failings were compounded by your use of her medical records for non-clinical reasons," said Prof Miller.
"You breached patient confidentiality motivated by a wish to pursue a personal relationship, and you failed in your responsibility to treat Patient A with respect and dignity."
Dr Majeed, who qualified as a doctor in Pakistan in 2005, was working in a trainee post at Bronglais hospital when the incident happened.
He received a final written warning for the incidents from the hospital in February 2011, before leaving to become a trainee psychiatrist in north Wales.
The tribunal panel said it accepted that in relation to this case, no relationship came from the approaches by Dr Majeed.
But it stated that the misconduct did warrant a six month suspension.
"It will indicate to you, to the profession and to the public that abuse of a doctor's position of trust is unacceptable and will not be tolerated," said Prof Miller.