Newtown High School to run John Beddoes School in Presteigne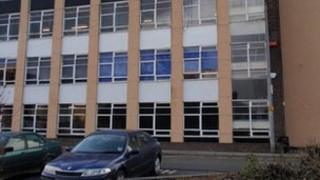 A struggling secondary school in Powys is set to be taken over by one of the county's best performing comprehensives 30 miles (50km) away.
Plans are to close John Beddoes School in Presteigne at the end of 2013 and reopen it as a campus of Newtown High School under one head teacher.
Powys council said "decisive and radical action" was needed and consultation starts on Friday.
John Beddoes is in special measures after a poor inspection last year.
The authority said Education Minister Leighton Andrews had suggested that John Beddoes should close.
Mr Andrews wrote to the council saying he was concerned about the poor educational opportunities being provided to young people in the area.
A decade ago Newtown High School was placed on a serious weakness list after a highly critical inspector's report, but since then it has seen a reversal in its fortunes.
It was recently named as Powys' first lead practitioner school, a Welsh government initiative which sees the country's best schools supporting poor performers.
As an expanded school Newtown high will operate as a spilt-site campus with children aged between 11 and 16 educated in Presteigne.
Powys council cabinet member for learning and leisure Myfanwy Alexander said the council was prepared to take difficult decisions.
"It is a matter of great concern when any school requires special measures," she said. "But when that school is a secondary school providing key elements such as GCSE and A-Levels to youngsters it is crucial that decisive action is taken.
"By closing John Beddoes High School and incorporating the Presteigne campus into Newtown High School - one of only two band-one schools in the county - we are sending a clear message to learners, parents and the whole community that we intend taking decisive and radical action to give local learners the education they deserve."
Dwindled
She said Newtown High School would be a split-site school but funded as a single school with a single governing body, one head teacher and leadership team across both sites.
John Beddoes was the first high school in Powys to be placed in special measures in December.
The following month the council withdrew funding for the sixth form and said it would close in 2014.
Powys council has said John Beddoes' exam results in recent years have been poor and it is a band five ranked school, while pupil numbers have dwindled from 550 to 350 in five years.
Formal consultation over the proposals will start on Friday and run until 2 June.
A public meeting is expected to take place at John Beddoes school on 14 May, with a second meeting at Newtown High School two days later. Both meetings will start at 18:30 BST.